Classes - Autumn
Come and join a sociable evening at a dancing class. See FAQ's or Contact us if you've questions.
Glasgow Branch appreciates that Covid is still with us. Hence there are a few restrictions which your teacher will explain, but face masks are not required when dancing.

Cost per class: RSCDS Members £5 / non-members £7 for all Branch classes
Your first class is free. All Branch classes have live music.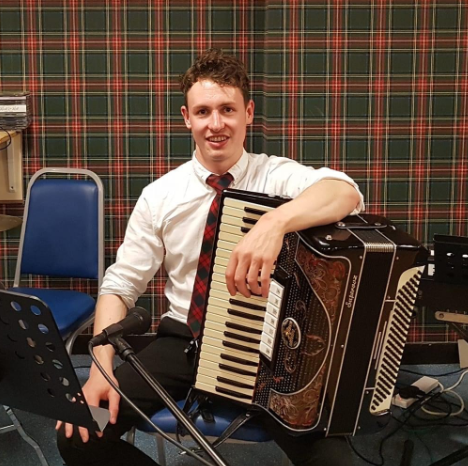 Sloan Taster Event for those who wish to 'sample' Scottish Dancing in a sociable setting. No prior knowledge needed for this single event - which is free.
Sunday 12 Sept 12 noon - 3 pm; Sloan's Bar, 108 Argyle St, Glasgow G2 8BG
Come along and find out more....
... many did and enjoyed the afternoon. See classes below to continue!

Beginners & Improvers classes are ideal for those with little or no experience of Scottish Country Dancing but also for those a touch 'rusty' and wish to become more familiar with the common formations. [shows: Teacher/Musician]
Tuesday 19.30 - 21.00 pm 14 Sept - 7 Dec; Westerton Hall, Bearsden G61 1NZ [Debbie McAlees/Billy Gray]
Beginners Scottish Country Dancing/Ceilidh are ideal for those wishing to enjoy Scottish dancing and become familiar with common formations

Tuesday 20.00 - 21.30 pm 14 Sept - 7 Dec ; Maccabi Centre, Giffnock G46 6LD [Eilidh Hart/Màrtainn Skene]

Friday 19.00 - 21.00 pm Garnethill Multicultural Centre, 21 Rose St, G3 6RE
24 Sept - 10 Dec [Anne Robertson /Rachel Campbell]
Saturday am 10.00 - 11.45 am Kelvinbridge Church, Belmont St, Glasgow G20 JR
Continues 2 Oct [Zsofi Jones /Phil Jones] (No class Sat 25 Sept)

General classes are for Scottish Country Dancers who have more experience and are familiar with dance steps and formations, and wish to extend their expertise.
Monday 19.30 - 21.15 pm 13 Sept - 6 Dec; Broom Church, Mearns Road, Glasgow G77 5HN [Fiona McDonald/Billy Gray]
Tuesday 19.30 - 21.15 pm 14 Sept - 7 Dec; St. Joseph's Church, 3 Buchanan St, Milngavie, G62 8DZ [Muriel Bone/Frank Reid]

Advanced classes are for those Scottish Country Dancers with considerable knowledge and experience.
The Very Advanced Class is more energetic, do contact us for details.
Wednesday (Advanced) 19.30 - 21.15 pm (Alternate Wed) 15 Sept - 24 Nov; Hyndland Community Hall, 24 Novar Drive, Glasgow G12 9PU
Wednesday ('Very' Advanced) 19.30 - 21.15 pm (Alternate Wed) 22 Sept - 1 Dec; Hyndland Community Hall, 24 Novar Drive, Glasgow G12 9PU
[Teachers for both advanced classes (in alphabetical order): Alasdair Brown, John Johnston, Oluf Olufsen, Anne Thorn, William Williamson / Music: Màrtainn Skene]

Continuation dates of all above classes in Jan 2022 - March 2022 will be posted later.