Seniors
Next meeting is on Thur 28 Sept 2023. Crookston Hotel, 90 Crookston Road, Glasgow G52 3ND. 12.00 for 12.30. Our enthusiastic entertainer will be Patrick Murray, giving a talk on his hometown of Dundee and its dancing connections.
There will be a light lunch of - soup, sausage rolls, scones (butter and jam), and a selection of cakes (cost £13.95) preferably paid by bank transfer (all details). Please also send an email to seniors@rscdsglasgow.org telling us you have paid so that we know. We ask that you use this method if at all possible, as it decreases our associated costs. We look forward to seeing you on 28 Sept, at the Crookston Hotel. Mo and Maureen.
News article in Scotsman newspaper
"Ones to watch in 2023: Ryan Corbett - the classical accordionist with starring role at King Charles III coronation service" ......see more
Summer Meeting 29 June 2023

The entertainer for our summer meeting was accordion player Ian Muir, who leads the Ian Muir Sound. It was a beautiful day and set the scene for a very relaxed afternoon. Ian appeared totally at ease, his planned program just a sheet of ideas, down by his feet, to use or adapt as the afternoon developed. His audience was equally relaxed and responded well to the to the atmosphere that Ian created. It was soon clear that tunes for a sing along would be welcomed and Ian obliged with a variety of popular Scottish Melodies. These were interspersed with jokes and stories that delighted the audience. Then the moment each performer must think twice about – dare I ask for requests?
Ian asked for and was inundated with requests, some were tunes he had written for people many years ago, others from performances, years ago at the Gaiety Theatre, yet others tunes from favourite Scottish Dances. Each one was met with a smile and with barely time to think he responded, much to the delight of the observers. He also answered the impromptu questions thrown at him.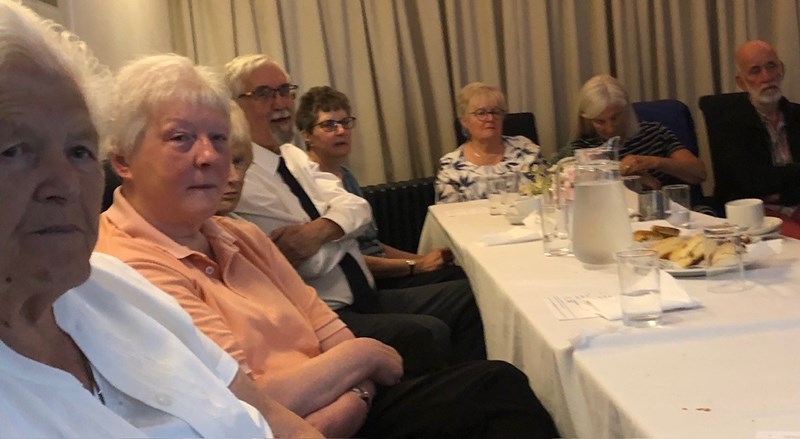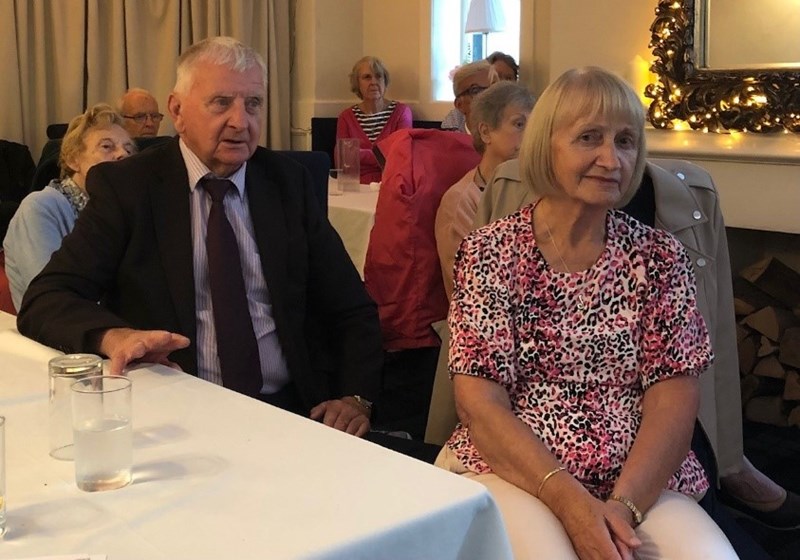 All too soon, our allocated time drew to a close. What an enjoyable afternoon!

If you would like to attend any event; more information; your name added to the list for the future; please send an email to seniors@rscdsglasgow.org
History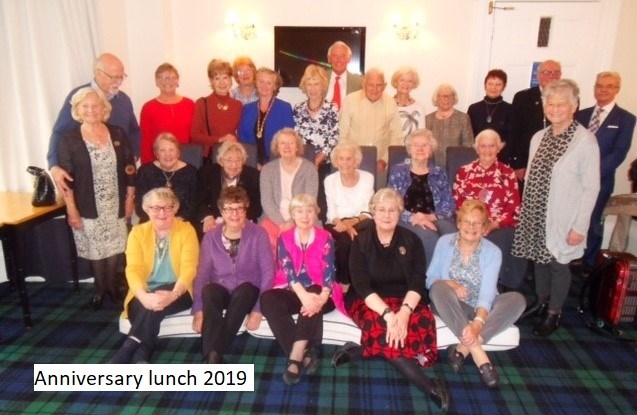 In 1998, as part of the celebrations for the 75th Anniversary of The Royal Scottish Country Dance Society (also the anniversary of the first meeting held in Glasgow in 1923, leading to the formation of Glasgow Branch), a group of senior non-dancers and a few dancers who were still active attended an afternoon tea dance. They very much enjoyed the social aspects of dancing and missed this when no longer able to dance. Hence they wished to meet on a more regular basis, in a suitable venue. The first official meeting of the Seniors' Group was held in 1999 at the Ewington Hotel [Queens Park], organised by Ruth Beattie now Hon Branch President, assisted by Joyce Turkington and the late Dorothy Paterson.
With the passing of time, this event has evolved into four meetings per year, Spring, Summer, Autumn and a Festive Lunch in December, open to all members of Glasgow Branch whether or not they dance on a regular basis. The general format for the ordinary meetings is a light lunch (soup, sandwiches, tea/coffee), followed by musical entertainment and/or a speaker. (There is an inclusive charge to cover the costs of a meeting, which can vary from meeting to meeting.)
Past events:
Alan MacPherson - April 2023
Margaret Church - September 2022
John Carmichael - June 2022
Challenges of the Walter Scott Book - March 2022
Article by Ruth Beatie for Scottish Country Dancer (April 2020)
Festive Lunch - December 2019
20th Anniversary Lunch October 2019
Richard Maudsley - Scottish Small Pipe - July 2019
Màrtainn Skene - More quality tunes and craic - April 2019
Anne Robertson - Round Scotland in Dance October 2018
Mairi Callan - young singer/clarsach player July 2018
Mr Rab Wilson – Scot's Poet April 2018

Click for: Some previous events