Seniors
After 8 years in post, Daphne Davidson and Katherine Morrison thought it was time to give someone else a chance to direct the Seniors' Group. Mo (Maureen) McCrudden has taken over as Convenor assisted by Maureen Daniel.
They plan to relaunch the quarterly Seniors Group Meetings with a
Festive Lunch to take place on Thurs, 25 Nov 2021 at the Crookston Hotel, Glasgow G52 3ND, 12 for 12.30 p.m.
If you would like: to attend this event; more information; your name added to the list for the future;
please send an email to seniors@rscdsglasgow.org
History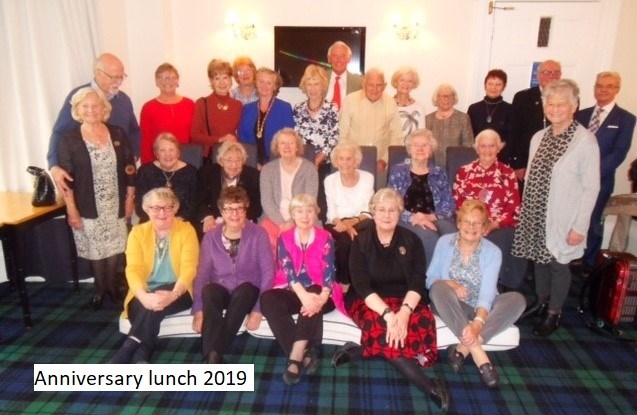 In 1998, as part of the celebrations for the 75th Anniversary of The Royal Scottish Country Dance Society (also the anniversary of the first meeting held in Glasgow in 1923, leading to the formation of Glasgow Branch), a group of senior non-dancers and a few dancers who were still active attended an afternoon tea dance. They very much enjoyed the social aspects of dancing and missed this when no longer able to dance. Hence they wished to meet on a more regular basis, in a suitable venue. The first official meeting of the Seniors' Group was held in 1999 at the Ewington Hotel [Queens Park], organised by Ruth Beattie now Hon Branch President, assisted by Joyce Turkington and the late Dorothy Paterson.
With the passing of time, this event has evolved into four meetings per year, Spring, Summer, Autumn and a Festive Lunch in December, open to all members of Glasgow Branch whether or not they dance on a regular basis. The general format for the ordinary meetings is a light lunch (soup, sandwiches, tea/coffee), followed by musical entertainment and/or a speaker. (There is an inclusive charge to cover the costs of a meeting, which can vary from meeting to meeting.)
Please contact either Daphne Davidson or Katherine Morrison in the first instance (see telephone numbers above) if you are interested in coming along to a get-together and/or having your name added to the mailing list.
Article in lieu of cancelled April event: Article by Ruth Beatie for Scottish Country Dancer
Past events:
Festive Lunch - December 2019
20th Anniversary Lunch October 2019
Richard Maudsley - Scottish Small Pipe - July 2019
Màrtainn Skene - More quality tunes and craic - April 2019
Anne Robertson - Round Scotland in Dance October 2018
Mairi Callan - young singer/clarsach player July 2018
Mr Rab Wilson – Scot's Poet April 2018

Click for: Some previous events