Dances - Glasgow Branch
Contact: Aileen Warwick - email: events@rscdsglasgow.org or Tel/Text 07885 195305 for info or reservations.
Glasgow Branch appreciates that Covid may be still with us, so please do not come along if you have symptoms.

Our Branch Dances are social occasions, see FAQ's for some details.
All Branch Dances normally are 7.30 - 10.30 pm. Tickets cost £12/£6 [dancers/non-dancers & students]


Refreshments - please bring your own mug. (Tea/coffee and a biscuit are provided).
2023
Reserving and paying for Branch Dances is preferred, details for paying and codes by dances.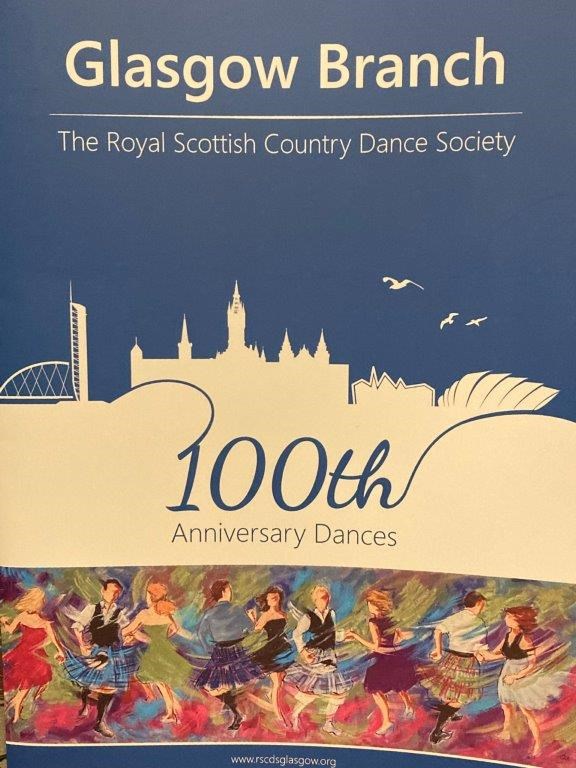 Some dates for your diary. For programme, click name of dance.

Glasgow Branch 100th Book:
Story of Glasgow Branch with 13 Dances (£10) contact for book

Centenary Ball tickets sold out (waiting list only) Contact events@rscdsglasgow.org

Fri 14 July Branch Summer Dance (DNJL) Billy Gray Duo, Bearsden Hub, G61 3QT Crib Diagram Crib
Fri 8 Sept Branch Dance (DNSE) Nicol McLaren Duo, TBC Crib Diagram Crib
At all Dances there is a clear recap for each dance. The Dance programmes are varied with old favourites and less familiar dances.
For Dance videos: click link, select Dance starting letter, choose dance and scroll down past crib to video.
Nice and Easy Dances often in February, May and November, encourage those who may be less experienced. Dances can be walked through.
Once a year there may be a Challenging Dance and, as the name implies, this Dance is aimed at the experienced dancer.
For more dances and events in the area see Other Events.