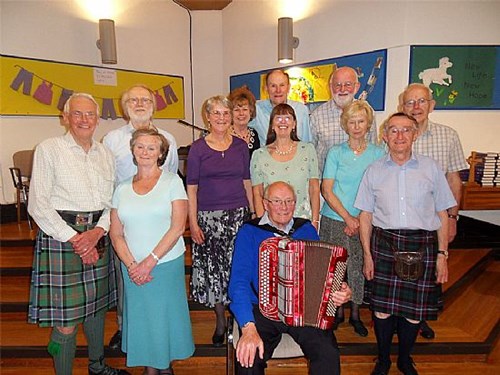 Award for David Ross
Added on 11 May 2015
It has just been announced that local musician David Ross is to be presented with this year's top award by the National Association of Accordion & Fiddle Clubs for his invaluable contribution to Scottish Music.
Notwithstanding his skill as a musician and composer, he is also a prominent Dance Band leader, plays a supporting role with the Royal Scottish Country Dance Society for classes and demonstration groups both here with the Glasgow Branch, around Scotland and abroad. He is much appraised for his dedication to training and encouragement of young musicians.
With this award David now takes his rightful place among the high echelons of Scottish Music joining acclaimed personalities such as Jimmy Shand, Ian Powrie, Jim MacLeod and Angus Fitchet.
The presentation will be made at a Dinner given in his honour at the AGM in Perth on 28th June 2015.
David with Branch Members
Photo: Patrick Murray