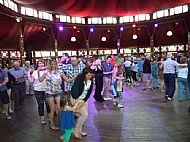 Commonwealth Games
Added on 26 July 2014
During the Commonwealth Games (23 July to 3 August 2014) there were three 'open to all' Scottish Country Dancing events. These photos are from Glasgow Green on Thursday 24th July 2014 with the Ian Muir Sound. Amazing to see they played the whole 2 hour programme without a single sheet of music.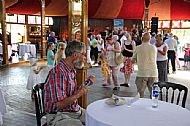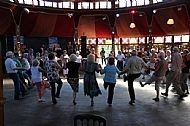 Thursday was a glorious day - hot and sunny - so everyone wanted to be outside - but the music drew them in. Some stayed for a few dances, others stayed for the whole session. Saturday 26th July was the turn of the John Carmichael Ceilidh Band - again no sheet music! There was no shortage of people keen to join in and the 2 hours passed very quickly. On 3rd August the venue was Merchant Square with the Ian Muir Sound.
At all these events it was wonderful to see people of all ages and nationalities having such fun dancing together.
My thanks to Maureen Daniel for finding volunteers to dance and keeping them informed, MCs Muriel Bone, Carol-Ann Stewart, Walter Proven and Alasdair Brown and to all the dancers from the Branch who helped and encouraged the visitors to join in.
I would also like to thank the Branch committee and Commonwealth Games subcommittee - Ruth Beattie, Muriel Bone and Liz Ferguson for helping to make everything such a success.
Fiona McDonald