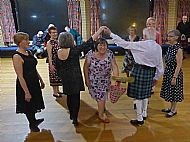 At the Saturday dance
Added on 25 January 2020
During this very relaxing dance we enjoyed some entertainment. Three young dancers demonstrated their dancing skills - excellent. Later two other solo presentations, of revelant Burns flavour, were much appreciated.
This one was caught on camera.

A 'wee' demonstration of how to dance Postie's Jig when you only have seven dancers. Obvious - you enlist the help of the 'Broom of Bon Accord' in his best outfit. The passing of the Broom from dancer to dancer was neatly done and added to the overall 'fun' performance. Our thanks to all the 'entertainers'.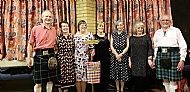 Photos: Meg Barrowman